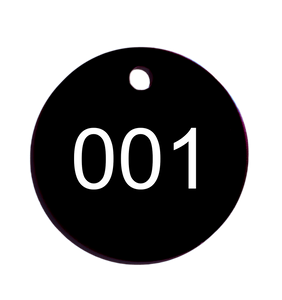 Anodized Aluminum valve tags offer a great combination of durability, quality and affordability.  We laser engrave our tags to provide lasting images and outstanding quality. These tags are weather and UV resistant.
These tags come in several colors and options. Sizes are 1 1/4", 1 1/2", and 2". The two smaller tags are available in Black, Blue, Green or Red.  The larger tags are available in Black or Red.
Tags usually ship around 1 week after order receipt.  Please call us if you need them faster.
Other colors, sizes and shapes are available, please contact us for a custom quote.  
Anodized Aluminum Valve Tag