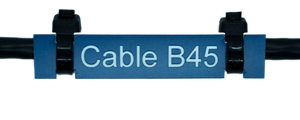 Plastic labels offer a flexible and affordable method to tag cables.  We laser engrave our tags to provide a clear and durable mark. These tags are weather and UV resistant.
Tags are 2.5" x 0.5" are typically 1/16" thick and engraved on one side.  They mount with two standard 50 lbs zip ties.  
Tags usually ship around 1 week after order receipt.  Please call us if you need them faster.
Other colors, sizes, shapes, and thicknesses are available.  Please contact us for a custom quote.