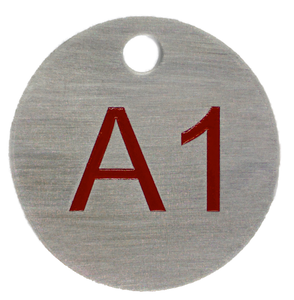 Stainless Steel valve tags offer an extremely durable method to label equipment.  We engrave our tags to provide lasting text and outstanding quality. 
These tags are made from 20 gauge Stainless Steel.  They are available in various sizes.  The hole is 3/16".
We offer several different engraving methods to suit your needs.  For surface marking of the tags we offer Cermark and white.  We also offer a deep engraving that can be paint filled with black or colored paint.
Cermark is an extremely durable surface coating common in the aerospace industry.  Because it creates a permanent, UV resistant mark without damaging or changing the underlying material, it is a great way to create a mark without altering the physical properties of the object.
White marks are created by engraving the metal with a high powered fiber laser.  This changes the physical properties of the top layer of steel and is an economical way to mark stainless.
Deep engraving and paint filling is the most durable method we offer for engraving into stainless steel.  Steel is removed deep enough to create a cavity that is then filled with paint.  We use a high quality outdoor rated paint, but all paint eventually fades.  Even then, the deep mark into the stainless steel will likely outlast whatever equipment it is attached to.
Tags usually ship around 2 weeks after order receipt.  Please call us if you need them faster.
Other sizes and shapes are available.  Please contact us for a custom quote.  
Stainless Steel Valve Tags